NOTICE: ARRL OARC Field Day 2021

Activity: ARRL Field Day - sponsored by Ogden ARC

Date: 4th Saturday 26 & Sunday 27 of June 2021

Setup Time: Saturday 9:00 AM, Takedown: Sunday 12:00 PM

Operating 24 Hours: 12:00 pm Saturday to 12:00 pm Sunday

Location: Marriott Park 1045 S 1200 W, Ogden (MSC) Utah


across from IRS parking on 12th West, just north of 12th St

2 HF stations will be in full operation!
Another great opportunity to operate HF Radio!
Waiting for you to operate (any license class)!

Potluck Dinner: 5:00 PM Saturday Evening
Burger, Dogs, Chips & drinks provided

NOTE: Please bring ... a large side dish to share
(salad, fruit, desert, side dish) Bring your own dinner-ware (paper-ware provided)

OVER-NIGHT CAMPING IS ALLOWED!

OPERATE FROM HOME IF YOU PREFER!

ARRL Link: ARRL Field Day

Another alternative - work FD from home - Tim KE7DOA

Field Day "Extended Agenda" - Gil NG7IL

Field Day "Schedule of Events" - Gil NG7IL

__________________________________

<![if pub11]>
GOLDEN SPIKE SPECIAL EVENT STATION W7G

Golden Spike W7G 2021 (view event pics)

Golden Spike - 119 & Jupiter (movie by Tom Harrington AF7J)

OARC CENTENNIAL SPECIAL EVENT STATION W7SU/100
W7SU/100 website >>> send your QSO logs to club email address <<<

OARC W7SU/100 (HF) Centennial 2021 (view event pics)

OARC W7SU/100 (VHF/UHF) Centennial 2021 (view event pics)

Ogden Standard News Release - OARC Celebrates 100 Years!

- OARC 100th Year (movie by K8RYN)

Happy 100th OARC - by Kathryn Sutton K8RYN

Commemorative Edition NL - by Kent Gardner WA7AHY

_______________________________________________________________
KUTV2 - featuring OARC W7SU Centennial

KUTV2 - mourns loss of photojournalist - Paul Howard

_______________________________________________________________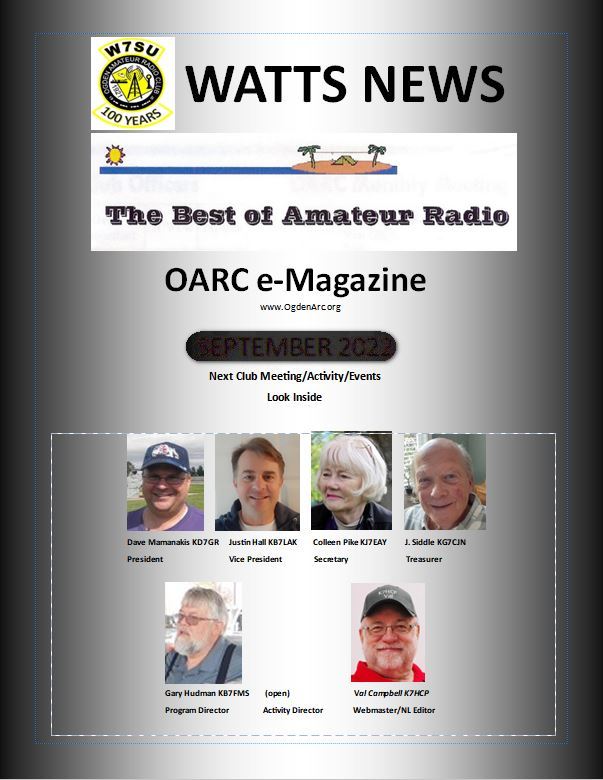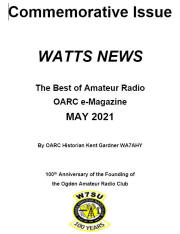 June 2021 NL Commemorative Edition NL
Contributing Editor submissions welcomed
Published 1st weekend monthly
____________________________________________________________
New entries in photo gallery
____________________________________________________________
Congratulations to those that successfully tested at the
02 June 2021 Ogden Weber County VE Test Session:
NOTE: FCC/VEC delay in processing apps. Stay Tuned!
NAME CALL CLASS
Fallow, Rick S. KF7VAW EXTRA
Hall, Justin L. KB7LAK EXTRA
Pike, Colleen G. KJ7EAY EXTRA
Taylor, Michael E. KE7NQH EXTRA
Stokes, Mark R. KJ6JHU GENERAL
Felt, Shelley L. KJ7ZID TECH
OARC VE Testing & Licensing Classes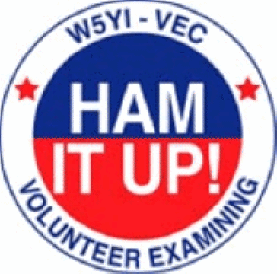 See who was licensed at the most recent VE Test Session.

How To Become A Ham ... It Might Be Easier Than You Think!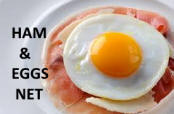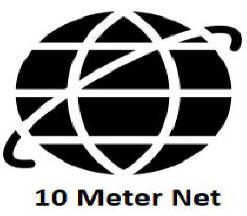 OARC CENTENNIAL CELEBRATION
(OARC turns 100 years old - May 2021)
Congratulations to the following OARC
2020-2021 officers

President: KD7GR Mamanakis, Dave - Incumbent
Vice President: KB7LAK Hall, Justin
Secretary: KB7FWW Siddle, Barbara - Incumbent
Treasurer: KG7CJN Siddle, James - Incumbent
Program Director: KJ7HEX Wilde, Mike
Activity Director: KW7TES Shobe, Todd
Officers: Be sure to read the ...
OARC Officers Duties and Responsibilities
OARC Officers BRIEF Duties and Responsibilities

Meet your 2020/2021 club officers
OARC REMINDERS:
Renew your 2020-2021 membership.
Do it online or mail-in. Click Join/Renew
OARC History - 100 years old (since 1921)
Founder Dr. W. G. Garner, W7SU
OARC 100 Years Certificate of Merit from ARRL
Commemorative Edition - by Kent Gardner WA7AHY
OARC Centennial/100th Year Membership Certificate 1921-2021 (1st pass Dec)
OARC Centennial/100th Year 2021 Logo & Patch designed (November)
OARC Centennial/100th Year Polo (Golf) Shirt (January)
OARC Centennial/100th Year 2021 Patch (March)
OARC Centennial/100th Year Polo (Golf) Shirt (May)
OARC CENTENNIAL 2021 QSL CARD CONTEST >>> $100 winner Joe Taranto K7CJT
View contest entries: #1 (winner)

#2 #3 #4 #5 #6
OARC Centennial/100th Year Membership Certificate 1921-2021 (2nd pass soon)
NOTICE
K1USN cw slow speed site
NOTICE
O'Bay swap page
NOTICE
If your Call Sign has changed this year, please notify OARC via club email.
Check the OARC Membership Roster to ensure correct info for your:
Call Sign, License Class, ARRL Membership "Yes" or "No".
Email this website if you have any discrepancies. 73
ELMER "mentor"
HELP LINE
Do you need the assistance of an Elmer (Ham Radio Mentor)?

Try our OARC Elmer Help Line. Ask your question via email.

Elmer Help eMail
(w7su@arrl.net)
subject="elmer"
OARC Equipment Loan Program

Do you have a need to try out some Ham Radio equipment before you decide what to do next?
NOTICE

Ogden Utah Stake Emergency Preparedness
Emergency Communications - Flag Pole J-Pole
https://www.ogdenstake.org/radio-communications
USEFUL BAND CHARTS
ARRL US Amateur Radio Band Chart 2020

ARRL US Amateur Radio Band Chart 2017
______________________________
USEFUL INFORMATION
Website Listing of ham friends
that have passed on (sk)

Click on the flag then use the search box in the upper right. Thank you Dave Sanders K7RGY
New ...
OARC 100-years Club Badge
Now available for $12
To order use the Join/Renew tab

Follow club activities/events

Meeting Presentation Videos
View club meeting presentations


coming soon ... maybe ?
OARC Google Group .
Send/Receive OARC member communications